I ordered a few knitting things from Joann's online store last week and they arrived yesterday. I bought some darning needles and some stitch markers but those were just extra since-I'm-already-paying-for-shipping items because this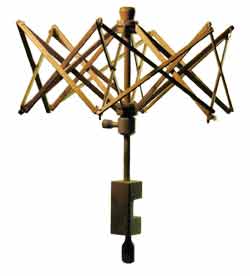 Swift

is what I really wanted. It's a good thing I bought the swift when I did because it's no longer available on their site. I also scored because I used a 50% off coupon on the purchase. I had to laugh though because the box says it's from
Lacis
in Berkeley, which is near here (but sadly not near enough).
Before I even changed out of my work clothes I set up the swift and tried it out. All the cats had to come and investigate of course. Yarn! Movement! What fun! I wound a few of the shanks of Manos del Uruguay wool I bought at Stitches a few months ago. Then I thought I'd try out the smaller balls of the baby alpaca yarn from Peru but they were too small. I decided to wind up a ball on the ball-winder anyway, which was a mistake. I
always
seem to get a tangled mess of yarn when I do this, which is why I wanted a swift. It turns out the alpaca was already in a sort of center-pull "ball" but of course I started from the outside and then the other end worked its way out and got mixed in and...oh what a mess. At least it was a soft mess to detangle. Oh my goodness, soooooo soft! And it kept the cats amused.
I've been meaning to start a decent knitting project, intentionally ignoring the UFOs I have. The too long sock will wait until I decide to a) knit another the same length and give them to hubby or b) frog and start over because I don't like the way the heel turned out anyway. There's also a scarf in the works but it isn't good for TV watching because I have to watch the "yarn" while I knit (it's a funky ladder-ribbon yarn and its slippery too). So I'm thinking about a summery short sleeve sweater. But so far thinking about it is as far as I've gotten. But I would like to get a good knitting project going because...
There might be a fun trip in our future with lots of airplane time. We might be going to the 24 Hours of Le Mans car race in France next month. A friend has invited us to his parent's house which is
on
the race course. We are thinking of flying to Belgium for a few days (where our friends live) and then make our way down to Paris and take a train to Le Mans along with the throngs of race fans. I'm interested in the race but will definitely bring some knitting to do...and ear plugs. The Belgium part of the trip will be great fun since I've never been. Chocolate! Lace!
Heavenly
. While in Paris I might try to sneak a visit to Dreyfus in Montemarte. It's a huge fabric warehouse of mill ends. Of course I don't need another bit of fiber of any sort but I might just have to make an exception for
French
fiber!
I worked a bit on my Burda top last night but didn't get very far. I planned to use my serger so I changed it over from coverstitch to 4-thread overlock only to discover that the step 1 of the instructions was to hem the edge of two pieces. AAAARGH! So I changed the serger back to coverstitch. Fortunately it's very easy to rethread my machine. But stitching the hems was not all that easy. The fabric I'm using is very stretchy and the edges curl. I expected the fabric to stretch as I sewed so I compensated by setting the differential feed to gather slightly. That seemed to work as the first piece came out beautifully. The second piece was not as cooperative but it looks ok. At this rate I
might
have the top done in time for our trip!